Molybdenum Bar for Steel Industry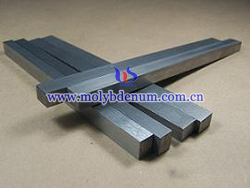 Molybdenum is mainly used in the steel industry. Most molybdenum bar is directly used for steelmaking or cast iron, a small part is after smelting to use in steelmaking.
According to statistics, 50% molybdenum is used in the steel industry. Molybdenum as alloying elements used in steel can improve the strength of steel, especially high-temperature strength and toughness. Besides, it is possible to improve the corrosion resistance of steel in the acid solution and liquid metal, thereby improving the wear resistance, quenching permeability, heat resistance and weldability. Molybdenum is an element which easily to form carbide and it does not oxidize in the steel-making process, which can be used alone or dope with other alloying elements. The consumption of molybdenum in special steel is regular growth. At the present, special steel per ton of molybdenum consumption has reached 0.201 kg. For example, molybdenum and chromium, nickel, manganese and silicon can produce different types of stainless steel, tool steel, high speed steel and alloy steel and these stainless steel has good corrosion resistance, which can be used for oil exploration corrosion resistant steel tube production and doped with 6% molybdenum in stainless steel can also be substituted for titanium used for desalination plant.
Molybdenum bar for steel industry can be made into two shapes, molybdenum rod (Φ (16-30mm) × (≥30) mm) and molybdenum bar ((10-16) mm × (10-16) mm × (≥30) mm) and the main impurities are as following Fe ≤0.050%, Ni ≤0.30%, Si ≤1.0%, O≤0.008%. General packing can be used wooden box or iron drums, wooden box in about 50 kg, drum barrel in about 100 kg.
If you have got any interest in molybdenum metals, please feel free to contact us by email: sales@chinatungsten.com, sales@xiamentungsten.com or by telephone:86 592 512 9696/86 592 512 9595.
Related Links: Molybdenum News & Prices