Molybdenum Copper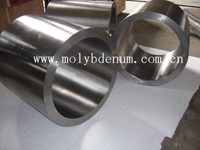 Molybdenum copper is a great alternative to tungsten copper for weight sensitive applications. The combination of high purity raw materials and high temperature hydrogen sintering using no additives yields the highest thermal conductivity available for this composite material system.
 Advantages of copper molybdenum:
40% lighter than comparable tungsten copper composite
Highest thermal conductivity available for this material system
sotropic thermal and mechanical properties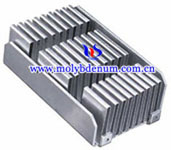 Tailored thermal expansions
Requires no expensive tooling
High precision components machined to customer print
Plating and metallization
Options available
Hermetic
Molybdenum-Copper for Heat Sinks
Copper molybdenum heat sinks is a composite made from Mo and Cu, Similar to W-Cu, CTE of Mo-Cu can also be tailored byadjusting the composition. But Mo Cu is much lighter than W-Cu, so that it is more suitable for aeronautic and astronautic applications.
Advantages: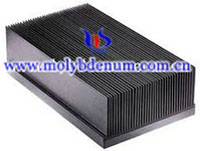 High thermal conductivity due to no sintering additives was used;
Excellent hermeticity;
Relatively small density
Stampable sheets available (Mo content not more than 75wt%)
Semi-finished or finished (Ni/Au plated) parts available
If you have got any interest in molybdenum metals, please feel free to contact us by email: sales@chinatungsten.com, sales@xiamentungsten.com or by telephone:86 592 512 9696/86 592 512 9595.
Related Links: Molybdenum News & Prices