Molybdenum Mine
Though molybdenum is found in such minerals as wulfenite (PbMoO4) and powellite (CaMoO4), the main commercial source of molybdenum is molybdenite (MoS2). Molybdenum is mined as a principal ore, and is also recovered as a byproduct of copper and tungsten mining.
The world's largest producers of molybdenum materials are the United States, China, Chile, Peru and Canada. Molybdenum is only known to occur in a natural state chemically combined with other elements. Although a number of molybdenum-bearing minerals have been identified, the only one of commercial significance is molybdenite (MoS2) - a natural molybdenum sulfide. In ore bodies, molybdenite is generally present in quantities from 0.01-0.25% and is often associated with the sulfide minerals of other metals, notably copper.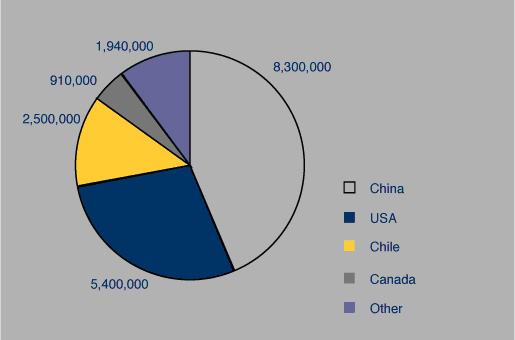 Global Molybdenum Reserve Base 2008: 19,000,000 mt (rounded)
Source: US Geological Survey
Molybdenum mine deposit can be divided into three types as following:
Primary Molybdenum Mine, mainly drawn molybdenite concentrate;
Secondary Molybdenum Mine, Separated molybdenum from the main product of copper;
Symbiosis Molybdenum Mine, Such deposit, the molybdenum and copper have the equal value in the industrial exploitation.
Si vous avez une question ou une question concernant le molybdène, n'hésitez pas à nous contacter par Courriel: sales@chinatungsten.com, sales@xiamentungsten.com Ou par téléphone: 86 592 512 9696/86 592 512 9595.