Forside>>Strandede Molybdæn Wire



Stranded molybdenum wire,molybdæn stang, molybdæn produkter, er de fleste producenter stadig bruger den traditionelle proces til fremstilling sænksmedeoperation cogging - stretch forarbejdning.
Der er to metoder til molybdæn wire gennem mekanisk eller manua, som molybdæn cutted efter behov råvare krav, kan det være en stor wire cutter, lille bidetang og en lang snoet ledning med forskellige specifikationer.
Bidetang, tråd brik sætter krogen på bidetang på pakken stram, udglattet, rettede, og derefter med den mekaniske magt til at gøre snoet wire krog til at rotere et vist antal omgange. Serveres som en forvrænget twist twist fjernet wire.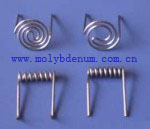 If you have any interest in stranded molybdenum wire, please feel free to contact us by email: sales@chinatungsten.com sales@xiamentungsten.com or by telephone:86 592 512 9696.