Välkommen>>



Clinging suspension clamp or a rider down, increasing the object clamp heavy vertical loads.

Rely on gravity to feed the device operation of mechanical watches.

The use of high quality materials raw molybdenum, 99.95% purity, high temperature up to 1600 ° -1700 °.

Hammer molybdenum is mainly used in high temperature and pH of the environment, as the material of molybdenum with a high temperature, corrosion-resistant properties.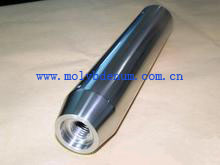 Om du har något intresse för våra produkter molybden, tveka inte att kontakta oss via e-post: sales@chinatungsten.com sales@xiamentungsten.comeller ring: 86.592.512 9696.